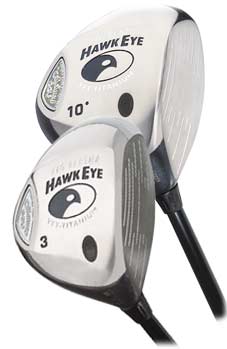 Supprisingly enough, the Callaway Big Bertha Hawk Eye VFT driver does not perform very well, compared to previouse Callaway Drivers. The Big Bertha Hawk Eye VFT does seems to suit any particular golfer, low handicap or high handicap. Slow swing normal or fast, it didn't really make any diference.
However, when you are having a good day, and stricking the ball as sweetly as possible, then the Hawk Eye VFT was sweet, but that was about the only time. If you are not striking the ball dead center, the club has a lousy feel to it.
It seems that the Hawk Eye VFT is optimised for a certain swing speed, a certain amount of power at a particular point and at a particular angle.
Simply for the inability for users to drive consistantly, I am not going to say much more about the Callaway awk Eye VFT except this: If you are a loyal Callaway Club User, and you want to use this club, try this club on at least 3 different days, as it appears that if you are simply stricking the perfectly the club is awesome, if you are not striking it sweetly, well then....