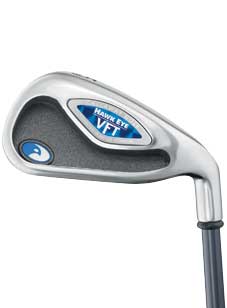 The Callaway Hawkeye VFT Irons are Ideal for mid to high handicapper looking for greater forgiveness, accuracy and distance in there golf clubs.
* Made from Titanium. Each clubhead is filled with Tungsten weight balls, towards the sole. With Tungsten being heavier than Titanium, the centre of gravity is lowered, making it easy to get the ball up in the air
* As the name suggests, VFT technology (Variable Face Thickness) is also utilised in this iron. This varies the thickness of the walls of the iron head from low in the long irons, to high in the short irons. This helps get the long irons airborne, while making it easier to hit better controlled short iron shots
* The VFT medallion in the back of the cavity absorbs vibration from each shot, reducing the stress on your hands
The head is far more compact the the original Hawkeye iron, with a much thinner topline
The Only Real downfall that these clubs carry, it seems as with all Callaway Golf Clubs, is Price. A big Price tag is attached to these clubs.
However, ther is no doubt that thay are great clubs, easy to use, forgiving and great distance. So over all, nice clubs, if you could afford them.
Get more infomation on these clubs >>